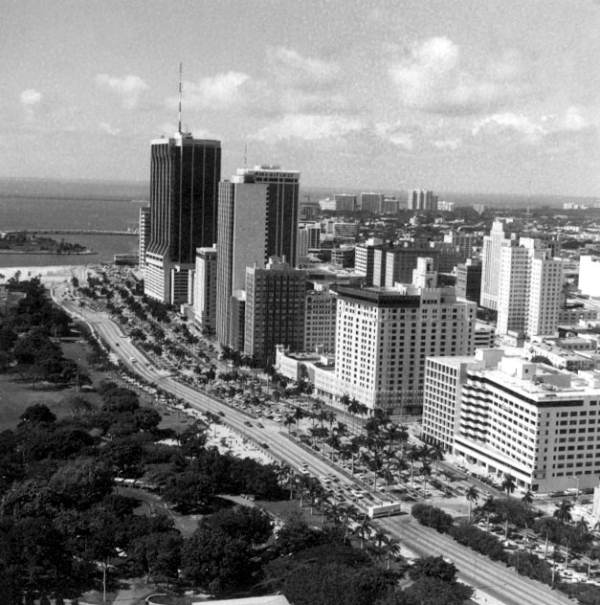 Brickell is an urban neighborhood in Miami, Florida. Brickell was settled in the modern era in the mid-1800s by early pioneers. William Brickell joined Julia Tuttle as a co-founder of Miami. William Brickell and his wife Mary moved to southern Florida from Cleveland, Ohio in 1871. He and his family opened a trading post and post office on the south bank of the Miami River, near the site of Fort Dallas.
The Brickell family owned large tracts of land stretching from Coconut Grove to the Miami River. Their neighbor, Julia Tuttle, also originally from Cleveland, is credited with attracting the attention of Florida's east coast railroad and resort hotel magnate Henry M. Flagler to extend his interests to the area. Both Brickell and Tuttle contributed land to the Flagler's Florida East Coast Railway, which brought growth and development and put Miami on the map. After William Brickell's death, his widow, Mary Brickell, became one of the young city's prominent real estate developers and managers.
Brickell grew up to become Miami's "Millionaire's Row" in the early 1900s after the construction of lavish mansions along Brickell Avenue by Mary Brickell. By the 1970s, office towers, hotels and apartments began replacing the historic mansions. Today, Brickell has grown to overtake the city's historic central business district to the north, as one of the largest financial districts in the United States. With a fast growing residential population, Brickell is now one of Miami's fastest growing neighborhoods. Brickell, along with the CBD, have over 70,000 permanent residents.
Brickell lies south of the Miami River, extending south to SW 26th Road, and is mostly mixed financial and residential north of Broadway (SW 15th Road), and mostly residential south of Broadway. The area of Brickell south of Broadway is mainly low and mid-rise residential buildings west of Brickell Avenue and high-rise residential to the east of Brickell Avenue. This area of Brickell includes the "Millionaires' Row" section of Brickell Avenue, home to many expensive residences, and home to many of Miami's most expensive apartments and condominiums, as well as some iconic Miami skyscrapers, such as the Atlantis Condominium.
Although Brickell has traditionally been known as a financial district, in recent years, construction of numerous condominium and apartment towers in Brickell, has extended the upscale residential neighborhood feel of lower Brickell into upper Brickell. This new developments in Brickell include, Echo Brickell, Le Park, The Bond, 1010 Brickell, and Brickell Heights.