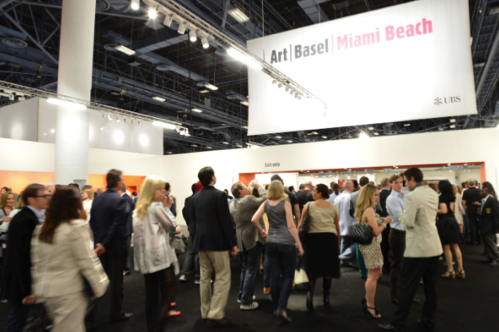 For little over 10 years, Miami Beach proudly hosted Art Basel Miami, the world's premier international art show for Modern and contemporary works. This year, Art Basel Miami attracted 75,000 curators, collectors, artists, dealers, critics, and general attendees from around the world to the convention, the largest turnout of Art Basel Miami.
Pieces this year sold anywhere between several thousands to $5 million; one piece sold at $4.8 million was regarded a deal. It is suspected that billions of dollars were bought and sold this past weekend. Some dealers, who fought for pieces by their personal favorites paid millions to have them, but remember a time when they purchased them for only hundreds of dollars.
Fashion and Hollywood also infiltrated the art scene in Miami. The A-list spectators not only hosted their usual cocktails and parties, but also were major contributors to the show. Kanye West discussed art and his collection on a panel, and artist collaborations such as the Damien Hirst/Alexander McQueen skull scarves were highly successful and brought in a whole new, diverse crowd.
The silver screen celebrities are not the only ones to look for however. Architects have a major involvement in Art Basel such as Zaha Hadid, architect of the 1000 Museum in Downtown Miami, has lent her talent in the past to Art Basel.
The artists are not the only imaginative minds Art Basel attracts. Each year entrepreneurs open up temporary bars, mini-clubs, and even mobile bars on bikes.
Art Basel is unique and each year breathes new life and creativity into the city. It is an opportunity (and escape) for enthusiasts, and plain attendees, to mix and mingle with the lofty world of dealers, collectors, and artists, and quench our thirst for fine art until next winter.