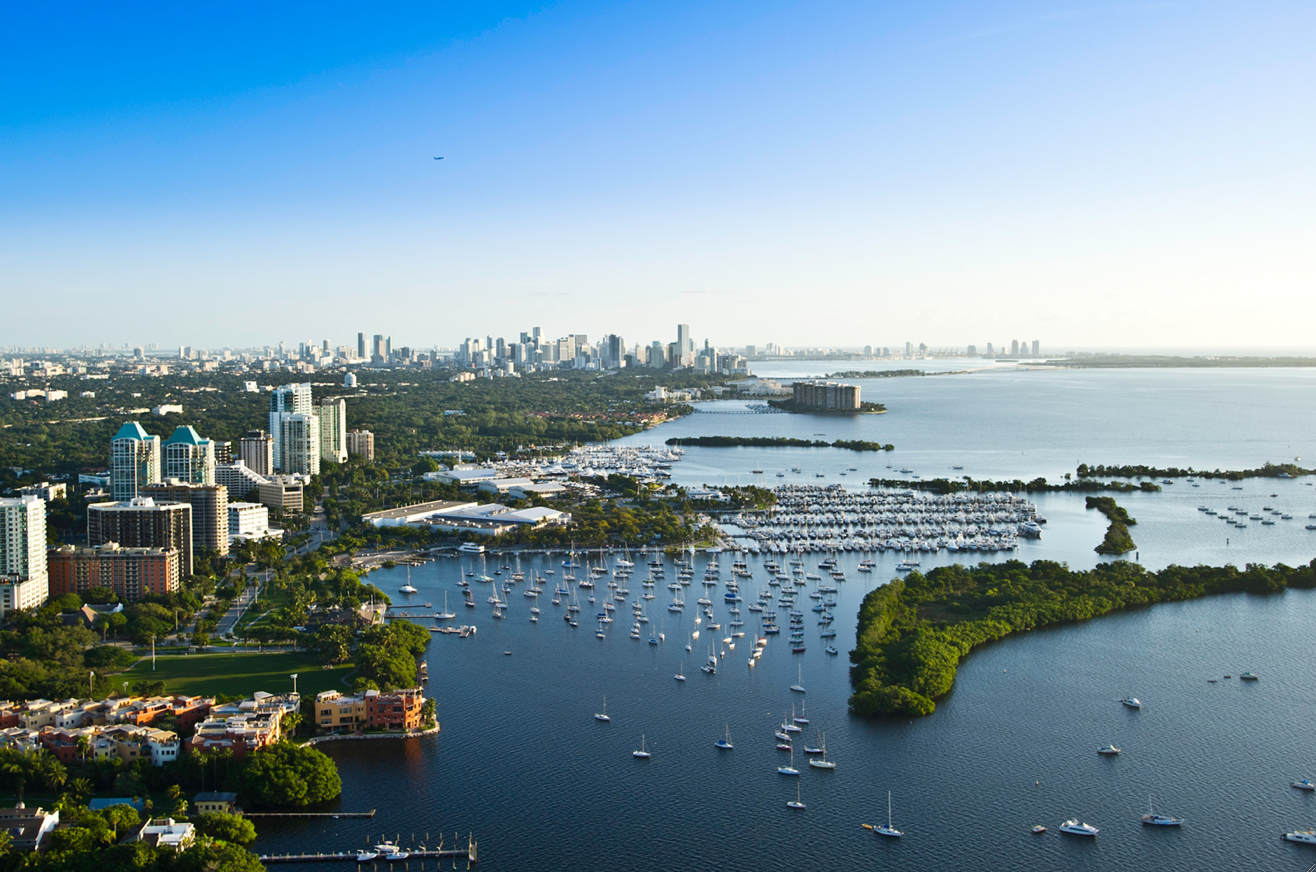 In the mid 1880's Coconut Grove's first documented settlers, Ann and Edmund Beasley, settle on the ridge in the vicinity of today's Barnacle State Park. Once one of the hippest spots in Miami, Coconut Grove faded as South Beach and Brickell rose. Now the Grove is poised for rejuvenation as a new generation of Groveites and some city initiatives seek to restore its identity as a lush Bohemian enclave with few equals
What has happened since is that the old Grove, the oldest place in Miami was buried by an onslaught of big money, by malls, chains and McMansions, and then, for a decade at least, after the big money went to South Beach, by a steady decline into a general drabness — some bright spots aside — of shuttered storefronts, third-shelf boutiques, bad-news bars and tourist-trap eateries.
But that was not the end for Coconut Grove, now that Miami is having a great boom as a city in general, Coconut Grove neighbors have been searching for ways to give it a new twist and stablish the rebirth of the neighborhood. Among the projects that are taking charge of revitalizing Coconut Grove are:
A seven-acre, lawn-like Regatta Park on the bayfront site of the demolished Grove exhibition center oriented to sailing and paddling. The city is now taking bids for construction.
An ongoing reconstruction of Southwest 27th Avenue, the Grove's once-scruffy principal entrance that will add trees, sidewalks and bike lanes. Buckling, narrow sidewalks on Main Highway will be rebuilt and expanded at the intersection with Grand Avenue and McFarlane Road. Sidewalks on Commodore Plaza have already been rebuilt and widened and new street trees planted.
A planned expansion, revamping or reconstruction of the historic Coconut Grove Playhouse, a village lodestar whose abrupt demise seven years ago produced a string of vacant storefronts next door on Main Highway, not to mention a vacuum in village life. Miami-Dade County is about to announce selection of architects to develop a plan.
A planned new restaurant, by the chef at Coral Gables' Eating House, in one half of the Glass House in underused Peacock Park, once the Grove's central gathering spot, and a new community center in the other half.
The planned replacement of the aging Scotty's Landing and Chart House restaurants with three new waterfront dining spots and a refurbishing of the adjacent marina, though the project has been held up by litigation.
Another big thing that is yet to be finished in Coconut Grove is Park Grove, Designed by a world-class team of leading architects, designers, and developers, Park Grove marries inventive modern design with the area's rich cultural legacy, creating an ambiance that is as luxurious as it is relaxed. For this vanguard project in the Grove, developers wanted the best of the best. That's why Oma and Rem Koolhas where chosen as the architects. The interior designs will be led by William Sofield, and Landscapes will be rose by acclaimed designer Enzo Enea. The three tower project is almost sold out, the location, the beauty and luxury has characterized this development. In Miami Partners Realty Group we pride ourselves of being one of the top sellers of this special project. For more information visit us at: info@miami-partners.com
To be sure, the new Grove, won't be a throwback to the Beatnik and hippie paradise of the late 1950s and 1960s, the accidental product of a previous downturn. The rapid suburbanization of the day had opened up lots of cheap living and working space in the Grove for artists, musicians and other counterculture types who found an easygoing acceptance in the village.
And so we can say that is Coconut Grove the area of Miami-Dade with more growth and prosperity. The dynamism of this community is tangible, ambitious construction projects, and a large influence of new companies. Coconut Grove is the classic Real Estate market in Miami, in recent years it has had a major transformation towards modernism and the inclusion of new towers.